The Pest Island Overnight Paddle is a quick & easy paddle that starts at the Goat Island boat launch. From there, it navigates through the surrounding back channel islands in the Piscataqua River to reach the campsites located on Pest, Leach's, & Clampit Island. This paddle is great for people wanting to get used to rigging a SUP & paddling with their gear on board. Besides that, this paddle offers a peaceful, secluded & tranquil "staycation" at a home away from home. It's a fast getaway for people who want to camp closely without having to pack too much, and want to be on the water as well.
Of course, this paddle can be done as a day paddle too. Be prepared to explore the islands and navigate the beautiful waterways and channels. Expect to watch the nearby eagles nesting in the trees above! Also, this paddle can be extended for the day paddle by starting from Pierce Island Boat Launch or Odiorne Point Boat Launch.
| | |
| --- | --- |
| Distance: | 1.62 mile |
| Time: | 1 hour paddle time |
| Difficulty: | Beginner |
| Best time: | Summer, High Tide |
| Parking: | Free |
Getting There
If you're coming from up north, get on I-95 for follow signs for Portsmouth, New Hampshire. If you're coming from inland and south, I-95 N will take you all the way up the coast as well. The great thing about this paddle is that you can launch from several spots once you reach Newcastle. Depending on your point of launch, you'll have to follow specific directions for that. See our approximate GPS address below.
Address for GPS: 350 Portsmouth Ave, New Castle, NH 03854
Parking
There are several paid & free parking spots that are a short drive (or a short paddle!) from the campsites. Be sure to read the signs and take note of the timeframe for parking in these specific spots. Some allow overnight parking for vehicles, and others do not.
Facilities
We were fully prepared to bring all our essentials with us on the Pest Island Overnight Paddle. There are no facilities at the launch area nor on any of the islands, so be prepared to pack it in and pack it out.
Camping
You are allowed to camp on the island campsites that are marked and designated on the map above. We found these islands through taking to locals and seeing other people camp there as well.
What We Brought
Bug Spray (Required!)
Leash
PFD
Sleeping Pad
Sleeping Bag
Tent
Warm/Dry Clothes
Fishing Pole
Backpacking Stove
Water Dromedary
Dehydrated Food
Cooler
Water
Kayak Lights
Trash Bags
For other gear to consider bringing for an overnight, check out my SUP Overnight Gear Checklist
Cautions & Hazards
Tides
We went at near low-tide simply because we were crunched on time, but ideally, you would want to leave at a rising or high tide. There are many parts of this paddle that have less than a foot of water at low tide so try to stay to the middle of the whatever 2 islands or pieces of land you are paddling on. Otherwise you could become a brackish mud monster. Brackish mud really isn't fun.
Fires
Fires are not allowed on Pest Island. Even though there are fire pits on the island, please do not start a fire. Bringing in pre-cooked snacks on the Pest Island Overnight Paddle would be ideal. To read more about the seriousness of fires on these islands, check out this article about having fires on these islands.
Broken Glass
Unfortunately, there seems to be a high abundance of broken glass all over Pest Island & the other surrounding islands. So, I highly recommend to bring water shoes or flip flops with you if you plan on hopping off on one of the islands.
Current Conditions
History
Pest Island was originally used as a "Pest House" for quarantining people. During inoculation against smallpox in the late 18th century, this was the island's main purpose.
There was a hospital nearby on Shapleigh Island where they would retrieve the inoculation & then those affected would be sent to Pest Island. The inoculated individuals were contagious for several weeks after, so they were isolated on "pest island."
Ironically, according to New Hampshire Public Radio (NHPR), despite the purpose of being on the island, Pest Island was quite festive & a fun getaway or vacation from the hard lives of the people at that time.
For more information about the history of the back channel islands around New Castle & Portsmouth, check out this article by NHPR to learn more about Pest Island.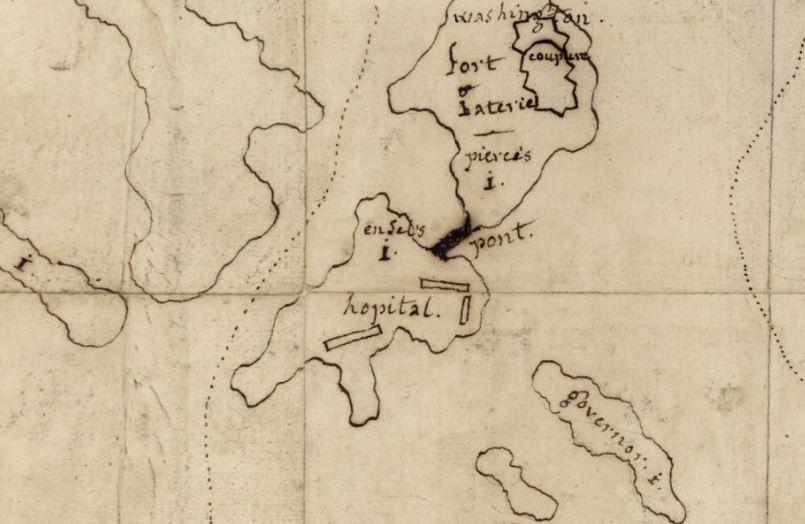 This shows the old hospital on nearby Shapleigh Island & the launching point for the paddle on Goat's island (labeled governor i in the photo.
Gallery
Tips, Links & Other Resources
---
Don't forget to leave me a comment with your experience or knowledge below on the Chinaman's Hat SUP paddle! If you have a question, write it here or in the comments below!
If you like this blog or this post, please consider sharing it on social media!